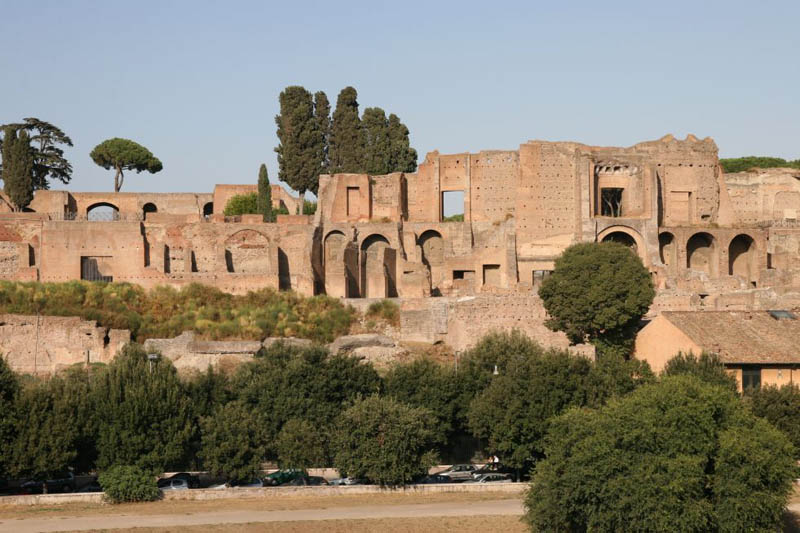 The Palatine hill is one of the seven hills of Rome. It is one of the older parts of the city.
High of 70 meters, between the Roman forum and the Maximus Circus.
It became a large museum on air.

The legend wants that Rome was founded on the Palatine hill. Recent excavations showed that populations lived there towards 1000 bC. According to the Roman Mythology, it was the place where Romolus and Remus were found by the wolf which saved their lives.
The hill was inhabited by noble ones and rich Romans, attracted by his splendid position. They build here their villas and their palates. In 63 bC, borned Octavus, adoptive soon of Julius Cesar, and first emperor of Rome with the name of Augustus.
Its attachment for this place made him choose the Palatine as the place where to build the Imperial Palate. It bought the house of Ortense, called "the house of Romulus". It also acquired the close houses and remained there without however making a true palate.


The "Domus Augustana" is completed in 26 bC. Among these buildings, the first was a very large Library, with Latin and Greek works. Augustus often organized there literary and oratorical receptions with the best artists and men of letters. After the library, the temple of Apollo, entirely built out of white pink marble of Carrara, with a carved ivory door. In front of the palate there was even a temple of Vesta. Today the only part of this time which remains is the house of Livia.
At the death of Augustus, the successors lived on the Palatine hill, who became thus the usual residence of the imperial families. The emperor Tiberus, successor of Augustus made set up Domus Tiberiana, now covered by the Farnese Garden. The most monumental part of Palatine is the "Palate of Flavi" set up by Domitius. The main part was a basilica. The enlargings of the imperial residence are due to Tiberus and Caligula. Neron build the domus Transitoria and the garden which connects the Palatine hill to the Esquilin hill.

The building was demolished by the Pope Sisto V, it remains however a very large terrace from which a marvellous panorama is admired. Septime Severus also built the Thermal baths which remains.

Like the Forum, the imperial palates were abandoned when Rome was deserted. In the Middle Ages one built here fortifications and gardens of rich families. Farnese and Barberini created there parks and vines, of which the famous "Farnesina Gardens" filled with decorative plants. Today, as in much of other places of Rome, the excavations continue on the Palatine.